In the "New World of Work" TrendBook, we offer you a new view of workspaces through interviews and overlapping perspectives. Through the combined views of international experts and professionals, analyses and specific examples, the "New World of Work" TrendBook invites you to take a look at the new challenges transforming the world of work and the companies that are now part of the real estate equation:
In what way is real estate, as a base for working experiences, becoming a performance issue for companies?
What is the legal framework underlying the impact of new technologies on the world of work?
To what extent does investment in these new working methods generate a profit for companies?
TrendBook New World Of Work
GET THE STUDY
Each TrendBook looks at the actual changes affecting the real estate market in one way or another. International experts in the sector are given the chance to talk through analyses, testimonials, case studies and key figures.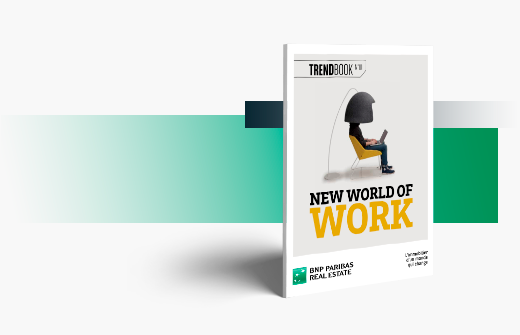 Click here to receive the study

-
The data you entrust to us are the subject of special attention. The treatment we do is decisive to offer you services adapted to your needs and to help you make the best decisions.We use all means to ensure the security and confidentiality of your data. We are committed through this website to answer your questions in a clear and fast manner so that you can always stay in control of your personal data. Have access to the portal dedicated to the protection of personal data : https://data-privacy.realestate.bnpparibas