Initially favoured by start-ups for its flexible leases and user-friendly design, coworking is surfing the "nomadic" work trend that is today gaining ground in companies of all sizes. In every European capital, coworking areas are on the increase, especially with the growth of pure players. Major market players are unveiling key propositions for a fast-growing market. The other side of the coin - coliving - is not far behind and is being carefully scrutinised by the market participants. Get your copy of the TrendBook on coworking and other co-arrangements!
How are companies rethinking their working environment?
How can the rise of coworking and other intermediary workspaces be explained?
Is coworking really profitable, both for the coworking office and for its coworkers?
Does coworking spell the end of the traditional office?
Is market saturation to be expected?
TrendBook Coworking and other sharing
GET THE STUDY
Each TrendBook looks at the actual changes affecting the real estate market in one way or another. International experts in the sector are given the chance to talk through analyses, testimonials, case studies and key figures.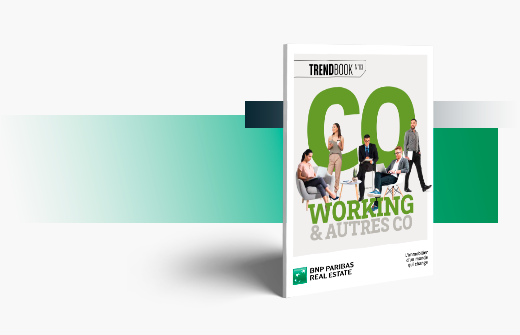 Click here to receive the study

-
The data you entrust to us are the subject of special attention. The treatment we do is decisive to offer you services adapted to your needs and to help you make the best decisions.We use all means to ensure the security and confidentiality of your data. We are committed through this website to answer your questions in a clear and fast manner so that you can always stay in control of your personal data. Have access to the portal dedicated to the protection of personal data : https://data-privacy.realestate.bnpparibas