Google's decision to back out of a 18,600 sq. m letting at The Sorting Office in Dublin's Silicon Docks recently brought wails of agony; mostly from media though, it has to be said.

The real estate juggernaut that is Google occupies almost as much Dublin city centre property as the Government does, and is oft times viewed as a bellwether for commercial property market trends.

This move, however, cannot be viewed as a signal to the market that the tech sector, and indeed large corporates, will start slashing their office holdings. 

With the decision to walk away presumably driven by the US, the plausible explanation is actually that The Sorting Office lease was potentially seen to have been a solution to 'plug a gap' in Google's office space requirement in the Silicon Docks.  

Google agreed to buy the historic Boland's Mills (19,500 sq.m) in 2018, which was due to be delivered in March 2020, but construction delays pushed this out to March 2021.   The Sorting Office was identified as the solution, and commercial terms agreed.  But then, Covid hit and the working from home (WFH) policy negated the immediate need for any additional office space.

Google did not need The Sorting Office space immediately, so it would have probably been a larger shock if they did progress with the lease. 

TikTok Tech Shot!
Also in the headlines last week, video sharing tech firm TikTok is said to be stepping up preparations for an office requirement of up to 46, 000sq. m for a new European headquarters in Dublin.

The Chinese internet giant is running a process to appoint a commercial property advisor to undertake a market review of potential options in the capital. 

The situation is considered fluid and the size of space needed could change as the process evolves.  However, hot on the heels of the Google change of plans, TikTok is an immediate and welcome boost for the Dublin office market, reaffirming its position as one of Europe's leading destinations for technology firms.

The multinational tech ship has certainly not sailed from Dublin's Silicon Docks and, in fact, companies here are consistently growing their presence and commitment to the local economy.

From humble beginnings in serviced offices in Earlsfort Terrace in 2003, with 5 people, Google is now one of the largest employers in the city and has a mass of real estate stretching form Barrow Street to the suburbs. 

It first opened its EMEA HQ in Dublin in 2004, with 100 employees.  Less than two decades later, the EU HQ is Google's largest outside of the US, employing over 8,000 people from 70 countries.

They are committed to fitting out and occupying both Boland's Quay and The Treasury Building, accounting for 33,000 sq. m and 3,000 staff, between them.   This will bring Google's office property commitment to approximately 120,000 sq. m across Dublin, and growth potential to over 11,000 staff.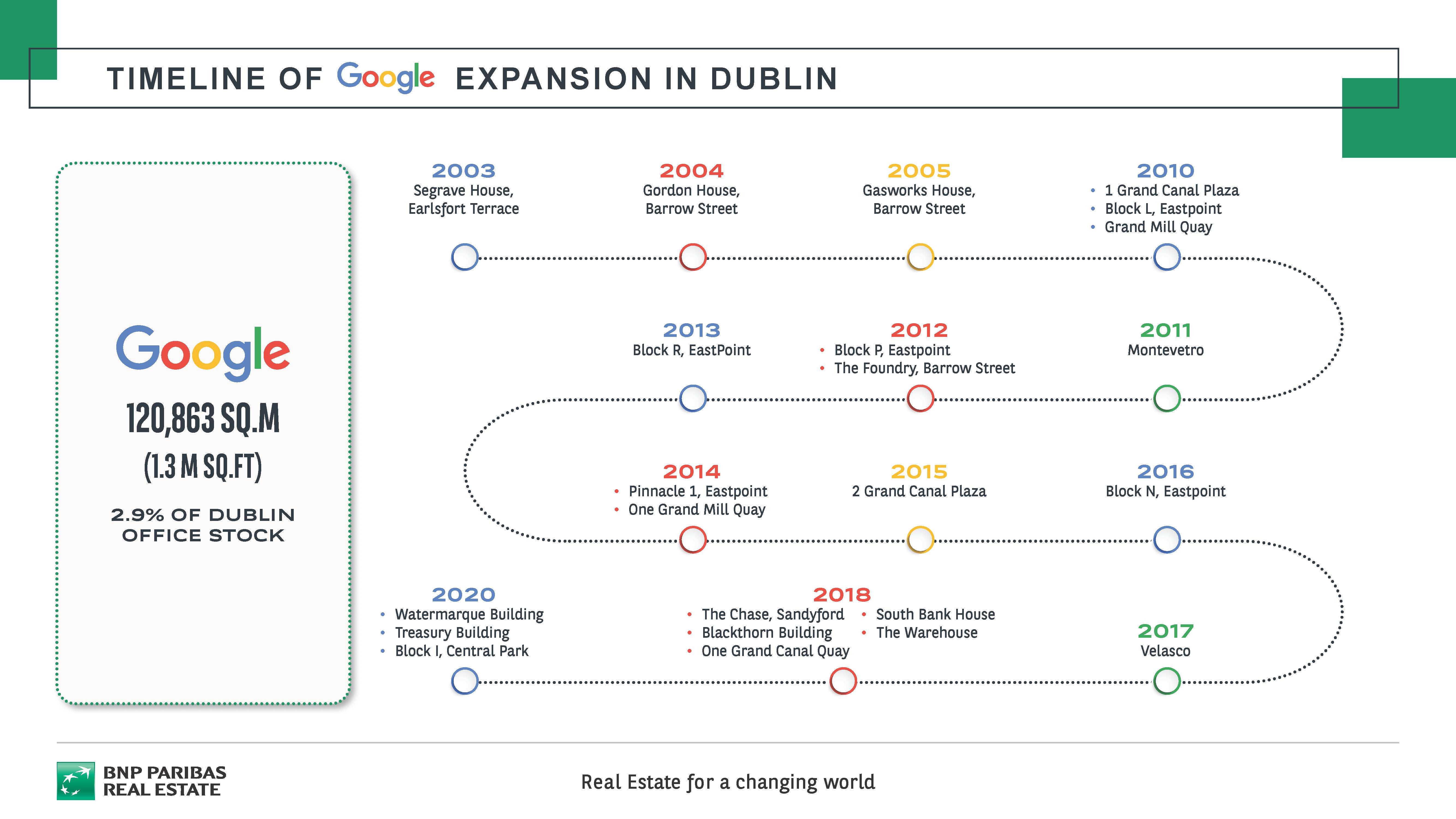 Working from Home
Nobody knows what the fallout will be from Covid, or if WFH will catch on.  But one certainty is that Google will only continue to grow, and technology is only going one way.

Google has a long-term strategy for Dublin, evidenced by the acquisition of South Bank House in 2018 – the in-place lease doesn't expire until 2031 demonstrating their underlying commitment to the Barrow Street vicinity. 

It is anticipated that Google staff will return to their offices by mid-2021, by which time the new Boland's Quay development will be able to accommodate additional staff. 

While working from home is seen as the death knell for the traditional commercial landlord by some, we don't need to write off the office just yet.   Pragmatic issues like employers liability extending to homes in case of personal injury, monitoring productivity, team building and training impacts, scaling back of pay and benefits, and the pure social interaction elements of workplaces all need to be considered. 

Google's own CEO, Sundar Pichai, has already made it clear that offices will remain an integral part of its operations into the future.
He outlined last May that, while the company was looking to develop more overall flexibility in how it works, its office campuses are 'designed to enable collaboration and community'. 

'In fact, some of our greatest innovations are the result of chance encounters in the office; and it is clear this is something many of us don't want to lose', the CEO of Google told staff.

Anecdotally too, there is discontent among Googlers in Dublin who are out of pocket having to pay for their own food, gym memberships and, of course, being millennials, missing out on the social interaction of the break out spaces of their offices.

And, whether for the free food or the 'continental craic', encouraging evidence from across Europe in the Economist magazine recently indicated that 84% of French office workers are back at their desk, while 40% of UK workers and 74% of German workers have also now returned to their offices.